Band Members
Meet the Band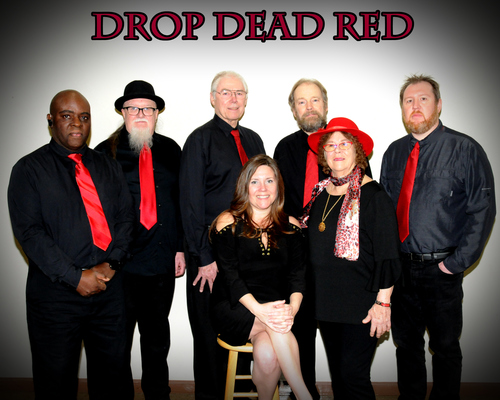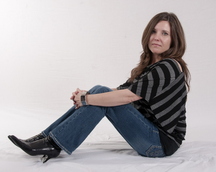 Theresa Lowe – Vocals
Theresa has been singing and performing in front of a crowd since
the age of 11. Her voice was trained classically, but her music
styling's run the gamut of R&B, rock, blues and jazz. Over the
years Theresa has had the honor of singing with some of the
Pacific Northwest finest musicians, including Sonny Hess, Lisa
Mann. Rae Godon, Lady Kat and many more. Theresa's first original
band was Inner City Blues. Inner City Blues was nominated for a
Muddy award for 'Best New Act' in 2005. Theresa also has the
honor of being a part of NW Woman Rhythm and Blues, headed up by
'Sonny Smokin' Hess'. Theresa's most recent band was UnderCover.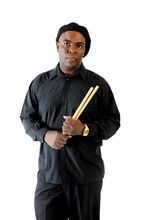 Wilton Merritt - Vocals & Percussion
A native of Jacksonville, Florida, Wilton has played the Portland
music circuit for over 20 years. Wilton is the youngest of 8; his
Mother and siblings all played or sang music. At 12, Wilton
joined a gospel group called Emitt Foster and The Silver Clouds
and toured all along the east coast. In 1976 they released a two
sided single, "Fill My Cup" b/w "He's a Shelter7 that received
radio air play throughout the east coast. This led to many tours
opening for artists such as The Mighty Clouds of Joy, Shirley
Caesar, James Cleveland, and many more. In 1977 he began working
with The Mighty Golden Jubilees touring with both groups. The
Goldens scored two hits on the national charts with: "Show Me The
Way Lord" b/w "The Rough Side Of The Mountain." From 1976-78
Wilton was also a member of the William M Raines Marching Band,
which led to a music scholarship to Morris Brown College in
Atlanta, GA, where he was a member of the drum section called
"The Sticking Sensation" (later featured in the movie Drum Line).
Wilton later left Morris Brown for Warner Pacific College with
his brother in Portland. In the years here in Portland Wilton has
been in such diverse bands such as Tommy Smith and The Fuse,
Kamikaze Lovers, Film at Eleven, Ellen and The Nightwatchers,
Dismal Nitch Orchestra, Lives in Limbo, and Drop Dead Red.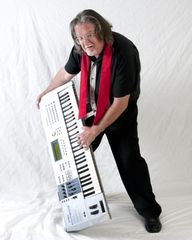 Tim Doyle - Keyboard &Vocals
Tim "the Deacon" Doyle hit the first milestone in his career by
signing a major label record deal at 18 years of age with
Quad/MGM, as songwriter and keyboard player for Douglas Fir. With
40 plus years of experience behind him, he has backed such mega
stars as: Bruce Willis, Andre Crouch, Blue Oyster Cult, and Lee
Oscar of War. He's toured the national blues circuit with Robby
Laws and played with local Portland bands: Lori Bouck and The
Interpreters, Sonny Hess's Power Band, and Undercover, to name a
few.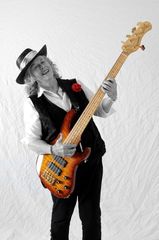 Joanne Mead - Bass & Vocals
Also known as: "Lady Funk" or "Grandma Funk:' Fulfilling a
lifelong dream of being in a band, she was in hot pursuit of
making this dream come true only seven years ago, very late in
life. She has received lessons from many of the best musicians
and instructors that Portland has to offer, and also instruction
from many nationally known bassists such as Chuck Rainey, Bobby
Vega, Ed Friedland, Mel Brown of the Tonight Show Band, and
Anthony Wellington of the Victor Wooten Band. She fills the
bottom end with wonderful style and technique, keeping the rhythm
strong and steady, equally talented on all styles of music.
Joanne has music in her heart and easily conveys that love to her
audiences from Portland to New Jersey and down to Florida. Don't
miss an opportunity to hear her play with Drop Dead Red Band or
any of the other three bands that she plays with in the Portland
area.
Joanne's motto is: "IT'S NEVER TO LATE TO TRY SOMETHING NEW!"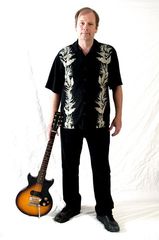 Jon Tennis – Guitar & Vocals
Eagle Scout Jon Barrington Tennis bought his first guitar at age
fifteen in an effort to torment his parents by pretending to be
Jimi Hendrix. His musical career of fronting bands and backing up
a long list of nobodies has out lasted most of the local dives
and weddings he has performed at. When not exploiting the
proletariat as an evil landlord Jon likes to decoupage small
artifacts and work in his garden. His eccentricities and dubious
behavior have even got him banned from Star Trek Conventions.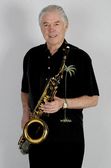 Bob Anderson - Sax
Bob started playing the alto sax in the 8th grade. (It seemed
cooler than the clarinet.) In high school he began playing jazz
but quit playing for 25 years while raising a family. Bob was
re-inspired in 1989 when he went to the Dandelion Pub in NW
Portland on a rainy Sunday afternoon, and heard Curtis Saigado.
He knew immediately that he needed to play music again. He rented
a tenor sax and after building up his confidence started to play
at blues jams and developed a love of blues music. He has played
sax with The Arnold Brothers, Myrtle Brown's Destiny, Out of The
Blue, The Fabulous Essentials, Inner City Bluez, The Under Cover
Band and Rockin' Robert and the Backbeats, among others. Bob
joined Drop Dead Red in 2012 and is wailing his sax to old R&B,
soul, blues and rock music.

Chandler Bowerman - drums
Chandler Bowerman gave up his dream of being a .200 hitter for
the Chicago Cubs for a career in drumming. For the last 20 years
Chandler has developed a reputation for being the worlds most OK
drummer in a variety of situations. He has performed with many
local and national acts including The Diamonds, Pinetop Perkins,
Mars Williams, and Nashville artist Jessa Anderson. Armed with a
B.A. in music from the first school to let him graduate in 10 years,
Chandler built a successful teaching studio in the Midwest. He was
also the Percussion program coordinator for several high school
marching programs for 13 years. After moving to the Portland area,
Chandler has become immersed into the blues scene and currently
plays drums for Francine West and the High Speed Wobblers,
Chad Rupp, and of course Drop Dead Red.